Do you need to find opponents for the 2022 season?   click here
---
6/9/21


2021 North Carolina High School Softball All-District Awards

NCSCA is pleased to announce our All-District award winners for 2021.  This year's standout athletes have proven themselves to be at the top of the game among the players in their respective districts.  We congratulate all recipients of this award.  The list may be found in our Awards area on the All-District/All-State page.  Our All-State awards will be announced soon.
---

5/19/21


2021 North Carolina High School Softball Playoff Winners

The 2021 softball playoff finishers are:
State Champions
1A- Camden County
2A- West Stanly
3A- Southern Alamance
4A- Hoggard
State Runners-up
1A- South Stanly
2A- South Granville
3A- Alexander Central
4A- East Forsyth
Regional Winners
1A East- Camden County (region 1)
1A West- South Stanly (region 6)2A East- South Granville (region 3)
2A West- West Stanly (region 6)3A East- Southern Alamance (region 5)
3A West- Alexander Central (region 7)4A East- Hoggard (region 2)
4A West- East Forsyth (region 5)
Regional Runners-up
1A East- Bear Grass (region 1)
1A West- Mountain Island (region 6)2A East- Currituck County (region 1)
2A West- East Lincoln (region 6)3A East- Gray's Creek (region 4)
3A West- North Buncombe (region 8)4A East- Fuquay-Varina (region 3)
4A West- South Caldwell (region 7)
Congratulations are in order to all the teams who completed outstanding seasons and made it into the state tournament, as well as the many great teams who, after proving themselves through very successful seasons, were squeezed out of their chance to compete because of the changes to normal playoff practices that were purportedly aimed at Covid mitigation.
The reality is that although publicizing this year's modified playoffs as their effort to reduce the spread of Covid, NCHSAA leadership made many big decisions in designing and seeding this year's playoffs that likely were not pandemic related.  These decisions left many deserving teams out in the cold and created significant sub-standard bracket pairings.  The shortcomings of this year's playoffs included undersizing the brackets in order to eliminate one round of playoff games; justifying the use of predetermined brackets by citing a necessity to reduce first-round travel, and then bracketing automatic qualifiers not by travel distance, but rather through random draw; throwing out Max Preps rankings, a superior tool for seeding brackets, in favor of using conference records alone (never a valid comparison of teams) to determine wild card qualifiers; and finally, without notice on seeding day, choosing to ignore the longstanding rule that guarantees a playoff berth to any team who wins their conference tournament.
The shortcomings of this year's playoffs in no way diminish the accomplishments of neither those teams fortunate enough to be able to participate nor those worthy teams who were never given the chance to participate. Let us hope that lessons learned this year will lead to better decision-making about future playoff structure and that NCHSAA's leadership will do a better job of both following their own rules, and avoiding ill-conceived guidelines with inferior playoff seeding practices.
Some of the more notable teams conspicuously absent from the 2021 playoffs who were displaced because of decisions surrounding the so-called "Covid modifications" to playoff rules are:
1A
Lincoln Charter

2A
Central Davidson
Pisgah
Providence Grove
Wilkes Central
3A
Cape Fear
Person
Rockingham County4A
South Central
Richmond
5/3/21


2021 Post Season Awards
Post Season award nominations are now closed.  Thanks to all the coaches who advocate for their players by participating in the process.  Without your participation, it would not be possible to recognize our superior athletes.  Be on the lookout for further announcements that will be made in the very near future regarding selections.
---

3/5/21


2021 NCSCA Scholarships
NCSCA is pleased to announce our 2021 scholarship program.  This year's offering will consist of $800 scholarships to be awarded to four North Carolina High School softball players graduating in 2021 and planning to continue their education at a college or university next year.  Full details may be found in the "Awards" area on our "Scholarships" page.
---

1/26/21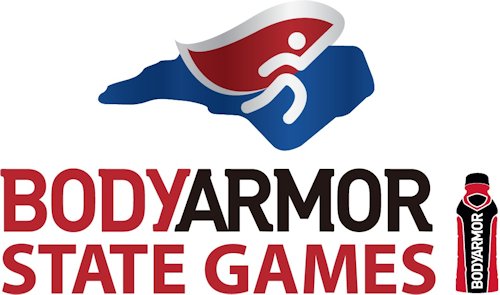 2021 Bodyarmor State Games
North Carolina's State Games softball showcase returns in June 2021 with its new sponsor Bodyarmor Sports Drinks.  Registration is now open.  Learn more here. 
---

10/16/20


Modifications for NC's 2020-21 High School Athletics
The North Carolina High School Athletic Association has created detailed guidelines that allow for athletic competition during the 2020-21 school year as the Covid-19 pandemic continues to run its course.  It is the duty of the NCHSAA to do all it can to guide our state's high school athletics through these difficult times in a safe and sensible manner, following best procedures as determined by science.  How everyone associated with our state's schools (teachers, administrators, students, coaches, and parents) react to and operate during the pandemic can have a large impact on how Covid impacts their local community and, in turn, this year's sports competition.  Please remember that the pandemic continues to be a fluid situation and that the rules given to us by NCHSAA for this season can change as the conditions of the pandemic change.  The 2020-2021 NCHSAA Modified Sports Manual can be found here.
---

7/1/20
2020 Scholarship Winners

NCSCA is pleased to announce our 2020 scholarship winners.  Each year, NCSCA awards scholarships to four graduating seniors who have demonstrated consistent hard work and dedication both to their high school softball teams and as students in their schools.  While not necessarily performing in the limelight, these young ladies are the kind of student-athletes that bring with them a certain quality that no team can function successfully without and that every coach is proud to have as part of their team.  More information about our scholarship program can be found on our Scholarships page.  
This year's four $800 scholarships have been awarded to the following student-athletes:
EAST
Elisabeth Collie              Southern Nash High School           Appalachian State University
Kelli Westerbeek            East Duplin High School                Campbell University
WEST
Ivy Ray                            Ledford High School                       Greensboro College
Karley Bailey                   Chase High School                         Western Carolina University
---

3/19/19     revised 2/2/21


Illegal Equipment
NCHSAA no longer requires umpires to check players' equipment prior to each game.  This, in effect, puts more responsibility on you as coach to make sure your players' equipment is both legal and game ready.  Catcher's gear with failing straps, cracked helmets, broken face masks, loose or missing attachment screws, cracked and out-of-round bats, and illegal bats, are all your responsibility to check for and not allow to be used in a contest.  Remember, the penalty for using an altered bat or a bat that is NOT on the USA Softball legal bat list is:  batter is out, batter is ejected, and head coach is ejected!  The list of legal bats can be found here.
---

9/13/18


North Carolina High Schools… Need a Softball Game?

If you need to add games to your softball schedule, check out our new listing.  To add your team to the list, send your open dates and contact information to webmaster@ncfastpitch.org .
---

Advertise your Scrimmages, Tournaments, Camps and Clinics.
Send the information you want posted to webmaster@ncfastpitch.org and we will place it in our "Events" area.
---
Photo by Donnie Roberts      www.the-dispatch.com